Campaign of the Month: August 2016
Oath of Crows
Rumours 479
During the winter of 479 the court is full of rumours of bastards and tidings of war. A young man has appeared at the royal court, claiming he is the bastard son of Prince Uther. Aurelius has ordered his armies to be mustered for another war. In Salisbury, the old sheriff has died, and Aurelius Ambrosius has left the decision of the new Sheriff with his brother Uther.
Conversations at the court
Women gossip by the fire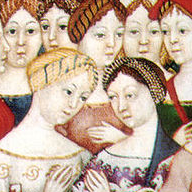 "Who is that handsome young man who is at court so recently? Do you think it's true he is the prince's' bastard?"
"Well, if he is recognized then we can expect another dozen or so to show up!"
"You are terrible! Maybe he's just another warrior come to save us from the Saxons."
"Saxons? I'm watching out for the Irish! That Estregales isn't worth trusting, sure as a horse has four legs!"
"Oh dear, what if both the Saxons and Irish attack? We'll surely be doomed. I'm too young to die — or worse!"
Prince Madoc speaks his mind
"Yes, I am the son of Prince Uther. I am to be knighted, so I can join my father in the battle against the Irish. Have you fought the Irish before?"
Duke Ulfius speaks his mind
"Paschent has allied with the Irish King, Gillomanius. They have landed in Cambria, and are now raiding it. King Aesc of Kent is assembling a fleet, too. We don't know what he is planning to do with it."
Royal Conversation
"Our brother, Prince Uther, will lead an army to the west to combat the Irish invasion. His son, Madoc, a most worthy young man, shall be knighted by our own hand, so that he may join his father in reaping the glory from the battlefield. We shall stay behind with the other half of the army to keep an eye on those treacherous Saxons."
Current Fashion and trends
Men's fashion in 480:
Clothes: Long tunics, embroidery, cape, impressive buckles.

Popular colours are dark red, dark blue and beige.
Hairstyle: Long hair tied in top knot and half-long beard. Usually cut with knife, cut hair is associated with romans.
Currently, dark hair is popular.
Women's fashion in 480:
Clothes: Long woolen dresses, cape, bronze jewlery.
Popular colours are dark red, dark blue and beige.
Hairstyle: Medium length hair, pure white hairdress
Currently, dark hair is popular.
[Intrigue: 15+] High King Aurelius has been suffering from Cholelithiasis
[Intrigue: 16+] Madoc is carrying a gold ring that he says is from his mother.
A mighty bear has been seen in Blakemoor Wood, it's been slaughtering cattle. The local pagans are upset.